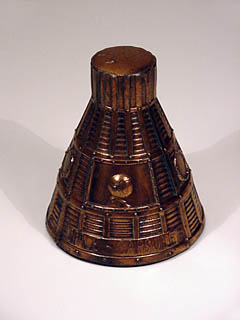 Not quite ready for the Antiques Road Show. One of my very early piggy banks, from 1962-63. A Mercury Redstone Capsule.
An Abridged, Idealized History
I'm a classic Born Again Rocketeer. Media events seem to have inspired my attraction to the hobby. Born in 1960, my childhood was filled with coverage of every segment of the space race. Nothing seemed more important or noble an effort.
In September of 1974 Evel Knievel attempted to jump the Snake River Canyon in a rocket powered "motorcycle". Shortly afterwards, I got my first Estes starter set and flew rockets for the next two years. Finances, high school, mid seventies lack of direction by manufacturers Estes and Centuri and a bad D motor failure in my most cherished rocket discouraged my interest in the hobby.
In the mid nineties, I noticed the magazine High Powered Rocketry at a local news stand. These rockets were considerably larger, stronger and more impressive than model rockets I had flown years earlier. While I didn't rush out and buy one, the thought of building one as a "trophy" rocket and a conversation piece entered my mind.
In 1999, the movie October Sky provided the motivation to take the plunge into high powered rocketry. I joined the Dallas Area Rocket Society in November of of 1999. It's been a very rewarding experience both in personal achievements and friendships made within the rocket community.