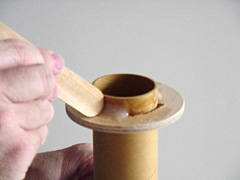 Well, here I am setting a bad example by applying epoxy without wearing gloves. Actually, this is a reenactment, intended to show my application technique.

March 15, 2002
Bonding the Forward Centering Ring
Before bonding any part of the motor mount, I sand it with and 80 grid sand paper. Then I set the motor tube next to the airframe and mark off where I intend each ring to be in relationship to the airframe, fins, fin slots, shockcord, and motor retention.
Mix up 4 drams of 30 minute epoxy.
Apply sparingly enough epoxy to cover the areas you intend to bond
With a gloved finger, quickly work epoxy into the surfaces.
Add a thickening agent like West Systems 403 Microfibers to the remaining epoxy.
Apply liberally the area to be bonded.
Shape and even the epoxy with a large tongue depressor.
.
March 16, 2002
Cutting the fin templates
The SkyPirate's large component fins would need a level of accuracy beyond "eyeballing" it. From the original, full scale illustrations, I added airframe alignment marks and printed out two fin alignment guides. These guides were very carefully spray mounted with 3M Super 77 the edges of a sheet of foam core. The fins sections were cut with and X-acto knife and straight edge, and the airframe was cut with a Pickett 410N compass with and X-acto attachment.
I had a little bit of a shock the first time I tried to align the two templates. They weren't lining up. Eventually, I realized I had forgotten to align the two templates horizontally. A minor adjustment to each template got everything back on track quickly.
Hindsight:
The Intruder is a bit of an unusual rocket. That has some characteristics of both four and six fin rockets.